STORY SUMMARY

HILO, Hawaiʻi – A celebration was held Friday at Keolahou, the site of the old Hilo hospital, East Hawaiʻi first "Ohana Zone" shelter.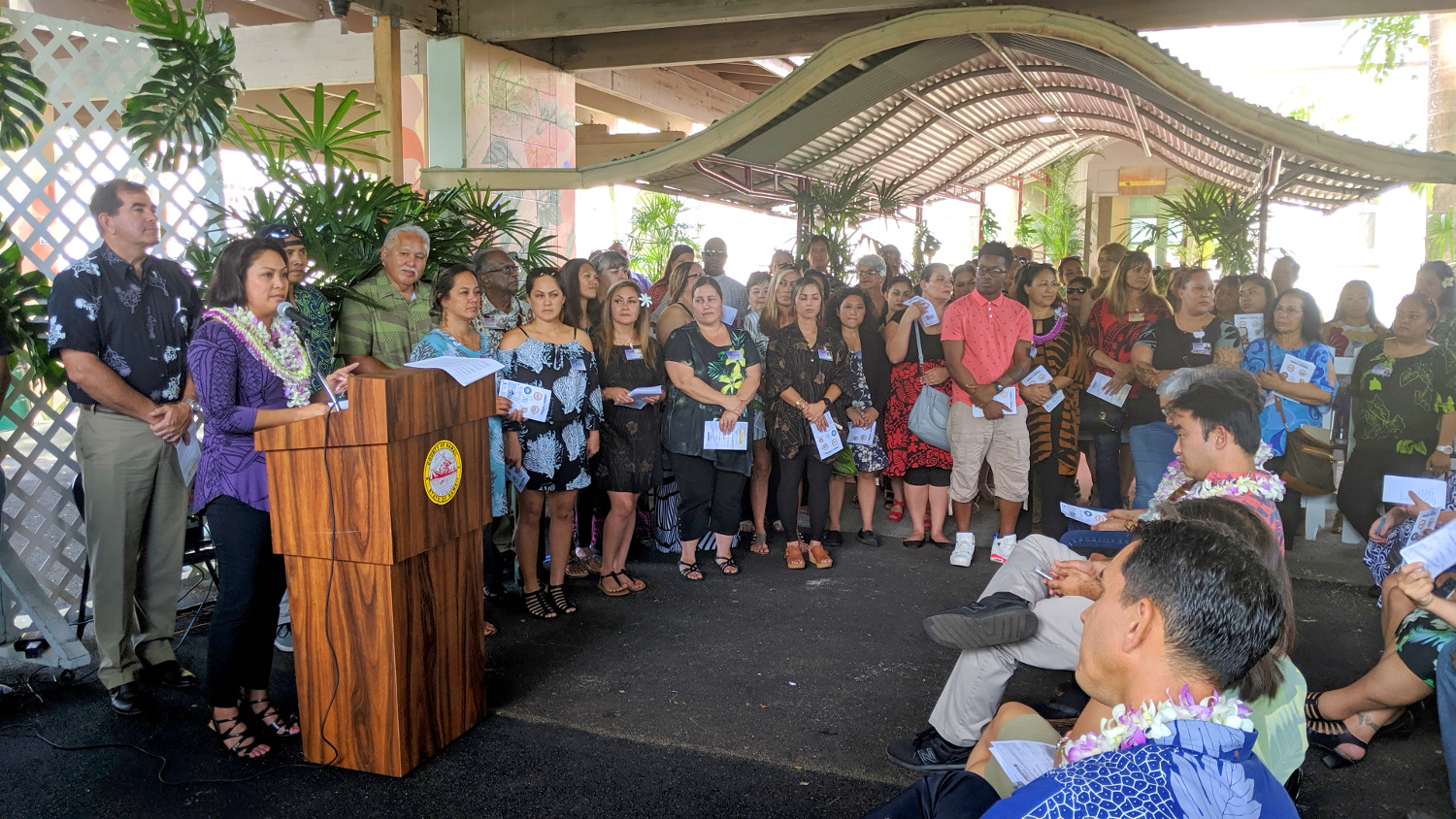 (BIVN) – The opening of Keolahou, Hilo's first ʻOhana Zone-funded shelter, was celebrated on Friday.
Local elected officials spoke and Kahu Kimo Awai blessed the entrance of Keolahou. The site previously served as the old Hilo Memorial Hospital.
The Keolahou shelter and assessment center had a "soft" opening on Monday, Oct. 14. When the facility is fully operational, officials say, it will offer emergency shelter beds, case management and other resources, with the goal of improving access to needed services for those experiencing homelessness.
Keolahou is a collaboration between the County of Hawaiʻi, HOPE Services Hawaiʻi, and the state – which provided $2.5 million in ʻOhana Zones funding.
There are 25 emergency shelter beds available in the initial phase, the state says. At full operation, the shelter will provide 50 emergency shelter beds for single men. The assessment center will allow individuals to connect with a case manager and other services. Individuals will be able to stay for up to 90 days.
This media release from HOPE Service Hawaiʻi provides more information:
Who do we serve at Keolahou?
Keolahou provides emergency shelter and services to men, who make up the greatest proportion of those experiencing homelesness on Hawaiʻi Island. HOPE also operates shelters that serve families, couples, and single women in both East and West Hawaiʻi. Additionally, we plan to convert another mens' shelter into a shelter for women and couples.

What is the long-term goal for Keolahou program participants?
To assist men experiencing homelessness in our community to a pathway to lease up affordable housing units, and connect them to the support they need to remain in housing. Last year, 70% of shelter residents who entered a HOPE shelter moved into permanent housing.

Are there sobriety requirements for entrance? Will participants with addiction/mental illness be given treatment?
We utilize a housing-focused approach that reduces shelter requirements such as sobriety or program attendance, which often serve as barriers to service. By partnering with BISAC, Care Hawaiʻi, ʻOhana Health, and other mental health service providers, we will connect participants to the help they need.

How will this impact medical and emergency services?
Keolahou is partnering with Bay Clinic, a federally qualified health center serving East Hawaiʻi, to offer medical care through their mobile health unit on site 1-2 times per month. By providing participants with regular medical checkups, we can help to reduce the strain on emergency services.

"Keolahou will allow us to provide desperately needed medical services to patients who otherwise might never visit a clinic. This can prevent minor medical issues from becoming catastrophes that require hospitalization," said Dr. Kimo Alameda, CEO of Bay Clinic.

We are piloting a partnership with Hilo Medical Center and have set aside 5 beds for patients who are ready to be discharged, but have no other resources, and no home to return to.

Are there plans to open a similar facility in West Hawaiʻi?
Yes. The County of Hawaii is planning two additional ʻOhana Zone sites in Kailua-Kona, which will offer similar services to those in West Hawaiʻi.

How can I refer someone experiencing homelessness?
Call HOPE Services at (808) 935-3050 or email us at info@hopeserviceshawaii.org. We are able to assist those who are currently homeless or who have received an eviction notice.

What kinds of services are partner organizations offering at Keolahou?
Keolahou partners currently offer medical care, job training & placement, financial, legal, insurance enrollment, food supplies, clothing, and hygiene services. Current partners include: Bay Clinic, Hawaiʻi Island HIV/AIDS Foundation, Arc of Hilo, The Food Basket, Hawaiian Community Assets, Project Vision, and the Legal Aid Society of Hawaiʻi (LASH).

"LASH is excited to celebrate the opening of Keolahou with the people of HOPE Services, other community partners, and the client Ohana we all serve together," said Dalton Newsom of Legal Aid Society of Hawaiʻi.

If your organization offers a service that might benefit program participants, please contact HOPE Services.

What can the public do to help end homelessness?
If you are a landlord or have a spare room in your home, you can end homelessness for an individual by renting through low-risk programs such as HOPE's Master Leasing If you have been touched by homelessness, or know someone who has, you can share your story. Stories help us humanize the problem of homelessness, which is the first step to taking action to end it.

Follow #HawaiiHousingMonth on social media for stories about the realities of homelessness, and to learn about homeless services available on Hawaiʻi Island.

About HOPE Services Hawaiʻi

HOPE Services Hawaii is an affiliate non-profit organization of the Roman Catholic Church, providing housing-focused services including outreach, emergency shelter and affordable housing with the intention of moving people in housing as quickly as possible and connect them with the support that they need to stay housed forever. If you or someone you know has been evicted or is experiencing homelessness, call the HOPE help line at 808-935-3050.